How To Get Hired As an Online ESL Teacher Fast
Teaching English online is meant to be flexible with ever-elusive job-life steadiness.The online ESL teachers teach students from around the world, as well as around their native country. Thanks to the virtual learning technology, such as Zoom and Skype, this approach of teaching has certainly caught on especially in the current pandemic. With all the possible resources, it is more achievable for ESL teachers to take advantage of these unique technology-meets-education opportunities. Online teaching English is booming and there are numerous foremost employers in this industry.Best of all, this job doesn't need a work license!
Getting hired is easier than you expect with the bigger and more programmed ESL companies! Moreover, you'll be able to discover information about the ESL teacher requirements on their website in a straight line.
But then again, what are the general requirements for the larger ESL companies?
Well, like all other ESL jobs overseas, teaching English online jobs also ask for the right qualifications and experience.
For many hiring companies, it's essential for an online English teacher to be a native English speaker (Not all of them).
You need to have a bachelor's degree (in any subject).
Some kind of formal or informal teaching experience (mentoring, working at camps, etc.).
English fluency.
TEFL or TESOL is desirable.
Now you may think that do you need to get TEFL/TESOL certified to teach English online? Well, if you haven't, then get certified! A good TEFL/TESOL course will provide you with a solid foundation in TEFL/ESL/TESOL-specific teaching methodology along with the other essential teaching skills. Along with the above-mentioned requirements, you have to invest in the right equipment too. You will need a decent PC/Mac/laptop, a high-quality webcam with a headset, a relaxed workspace and a quiet room. Also, make sure you are based in an area that has a reliable electricity supply with proper stable internet connectivity.
Different Types of Online English Teaching Jobs
Online ESL teachers usually teach students from around the world, and include the following roles:
Adult ESL education online teachers
College-level online ESL teaching faculty
Online English teachers
Online English private tutors
Course curriculum developers
Instructional designers (ID)
Subject matter experts
ESL Trainers
Online teaching English jobs can be found at the college, school and university level, across all the academic as well as vocational disciplines worldwide. As English language becomes more of a base condition for forthcoming career success, the online education sector has seen impressive growth in the number of kids learning English as a second language online, particularly in countries across Asia. Now a rising number of English learners are moving online to access knowledgeable English-speaking teachers.
You can teach English online from ANYWHERE!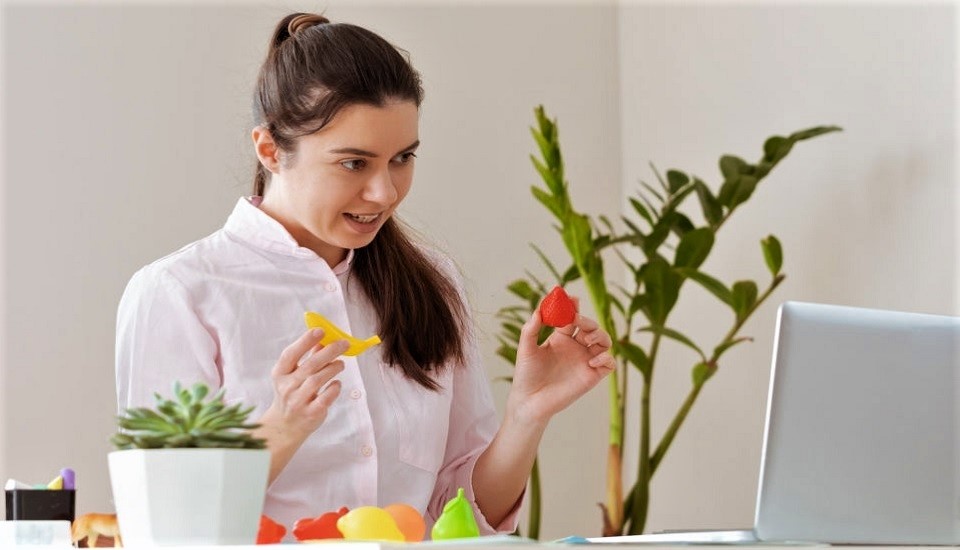 Teach English online means that you can start teaching English from your home also! You can easily take your laptop with you, wherever you wander in the world! Well, teaching English online is picture-perfect for travellers and teachers who are always on the move. The best online ESL jobs are super appropriate and flexible, open 24/7, whatever time zone you're in.Usually, you will be able to set your own teaching hours, which means that you can easily fit into your programme.
There are a number of online ESL education companies that connect with remote English teachers. The majority of them are currently operating to provide online ESL teachers with programmes, course materials and also the developed teaching skills. This also means that you won't need to spend supplementary time in planning your lessons in advance.
The Job Hunt
Online English companies want to see your neutral accent and English fluency without grammatical errors along with your professional and student-friendly nature. There are several organizations where you can find a reliable ESL job. You can start your job hunt by reading reviews on the supplier's website as well as other external sites; you can also talk to people who've truly worked with those companies. Moreover, find out whether the business is a trustworthy one or not.
You can find jobs through social media because nowadays companies have private Twitter accounts, Facebook pages and professional LinkedIn profiles. Contacts on any of these networks are really valued. Along with that, you may join different ESL groups. With your experience and qualifications, you can earn well in the online ESL market.
Make a Killer Resume
Believe it or not, this is an imperative step for getting hired as an ESL teacher fast. Prepare a clean, simple, contemporary design where briefness sways supreme. Make sure it is scannable and easy to read.Try to use clean, sleek fonts like Calibri, Arial, or Verdana to give a more tightened-up appearance. Remember, the text should be black any headings or sub-headings should be bold where needed. Start with the basic information followed by career objectives andlist your highest level of education including any and all programs, degrees, certification, and other formal training programs. Then add your work experience (if you have any) highlight your TEFL/TESOL Certification here and add your professional skills.
Don't let your competition fright you off! The industry continues to grow and teaching English online is easier than ever with the TEFL course online. Have a quick look at some of the above-mentioned guidelines of becoming a potential online English teaching employer. Of course, you can always Google around to find helpful answers for yourself. Do some research on the company before sending your application and express your enthusiasm. Include manners for the company to get in contact with you for a follow-up conversation.Use this break to reach across the digital divide and get connected with new students.