Do Online English Teaching Platforms Accept native-like English Speakers?
Just imagine that you could teach English from the comfort of your own chaise longue. No need to travel to work every day, you could just do your work by staying at home only! All you need is a laptop/computer or a smartphone with a good internet connection. At present, one could note the rising number of job posts advertising for native-like English speaking teachers. The global demand for online English teachers is continuously growing. Now, there are many companies/institutions that hire non-native speakers who are extremely proficient in English with TEFL course online certification. There are numerous different options to teach English online at the present time!
Keep on reading to find out how to become an online teacher as a non-native speaker and which online teaching sites or school in the list below will suit your needs the best.
What are the benefits of teaching English online?

With online English teaching, you will have the flexibility to make time for those things that are imperative to you.
Well, before applying to every online ESL job out there, think through why you want this job and what kind of commitment you are willing to fulfil. Do you prefer to teach adults or kids? Is this going to be your full-time income source? How do you figure out where to find these jobs? Find out the answers!
Will you need a teaching English certificate to teach online?
Well, honestly speaking, that depends on the company you apply for. We would suggest you if you have great communication skills as well as practical knowledge, show this during the job interview. Usually, most online ESL institutes will ask for a degree or a teaching certification but most online ESL schools need you to have a TEFL/TESOL/CELTA certificate.
TEFL - Teach English as a Foreign Language
TESOL - Teachers of English to Speakers of Other Languages
CELTA - Certificate in English Language Teaching to Adults
And, if you are confused about which qualification you should choose, we would suggest going for the online TEFL certificate.
Do you have to be a native English speaker to teach English online?
Absolutely no! However, you need to show an excellent knowledge of English with a clear native-like accent. Also, you need to learn all the grammar rules along with the below-mentioned requirements if you are a non-native speaker:
Near-native English skills
Solid internet connection, microphone, webcam with quiet space for lessons
In some cases, a university degree or you are currently enrolled is being asked
A TEFL certificate
You are whole-hearted, passionate, and confident
These are the basic requirements to teach English online and more variations can be seen in different-different companies.
Companies that employ non-native speakers to teach English online:
1. Fluentbe
Fluentbe is an online language school and their classes typically take place online in a 1-to-1 basis or in groups of up to four students using webcams plus applications similar to Skype. Most of the time their requirements only mention that you must be passionate about it and also, you have to be happy, talkative, engaging and open. They have flexible working hours where you choose when you work.
2. First Future
First Future is also another great option for people like you. They generally train you in everything needed to master and no online teaching experience is required. They have a preference to a degree as well as a TEFL certificate with a clear speaking voice and no strong regional or national accent. They usually hire people who can communicate well with both children and adults. Here, you will be working on a stable schedule and you can also schedule for extra classes to boost your salary. You can also add/change your accessibility for additional classes yourself on a daily basis.
3. TOPICA Native
TOPICA Native is also another online English language tutoring platform that connects with ground-breaking services via Google classroom. Teaching experience is not necessarily required but is desirable. For non-native speaking applicants, an exceptionally high level of proficiency is preferred. TOPICA always recruit online ESL teachers every month.
4. Italki
Italki at present supports Skype, Google Hangouts, Facetime, and QQ. You need to download, install, and create an account using one of these options before your first lesson. In order to teach a target language in Italki, you will have to show the native proficiency or the most advanced (C2) level. To prove your native or advanced (C2) language level, you need to speak at least a short paragraph during your introduction video. Then you have to upload any language expertise certification that you have earned to your italki profile. Here, the students plan lessons for times that you are accessible to teach.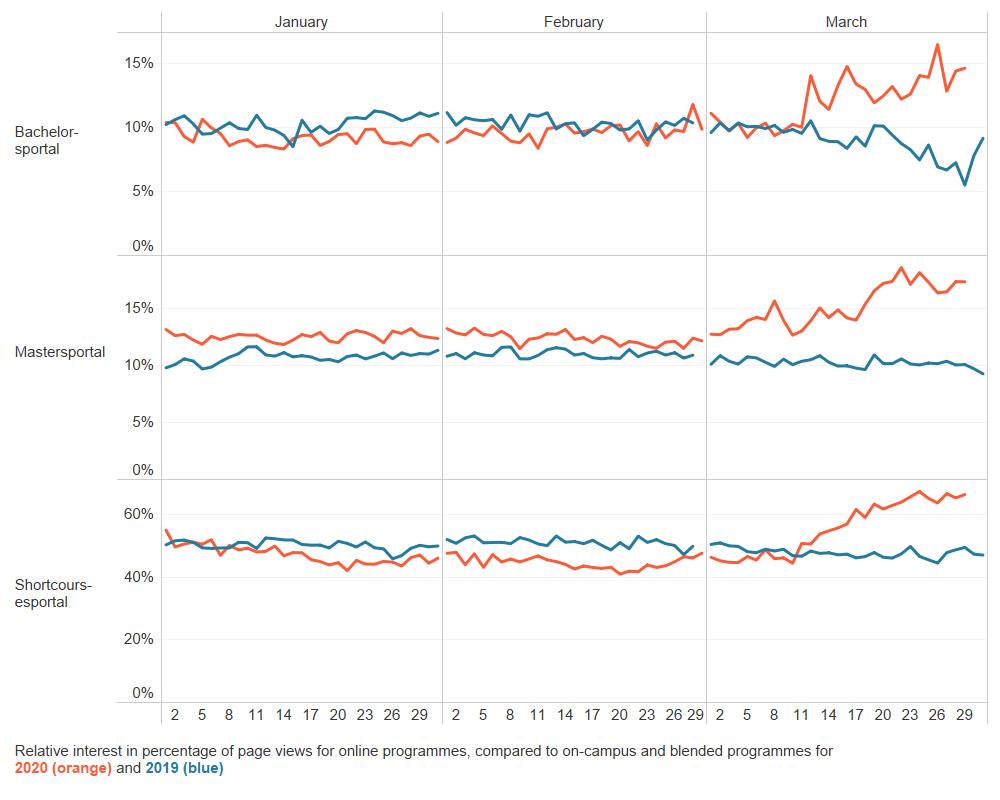 (Ref: https://bit.ly/3nal1a6)
Relative interest in online education, compared to other methods of teaching in 2020 and 2019.
5. Learnlight
Learnlight is not only an online ESL platform but also a motivational and personal mentorship platform. Here, the trainers guide learners through their virtual learning knowledge. Learnlight requires their teachers to be TEFL/TESOL certified with a minimum of two years' language teaching experience. For the non-native applicants, a proficiency in the language is must, and if you have a certificate of proficiency in the English language, it would be a good idea to mention it in your application.
6. Bibo Global Opportunity
Bibo Global Opportunity teachers usually deliver English lessons to learners from Japan, Taiwan, and other parts of the world via Skype. You will need the proficiency in the English language, teaching skills, and computer literacy (particularly Skype) and you have to be at least 18 years old to apply. If you have a certificate of proficiency in the English language, this is advantageous! Here, the applicants have to submit a short essay to prove their English proficiency level and will be notified whether they pass the assessment or not. If anyone passes the preliminary screening, he/she will be invited to a Skype interview with all the details essential before the first interview. If you pass the interview then you will be asked to give the internet speed test result 60 - 30 minutes before your training starts. Applicants who pass the training and do not meet the required Internet speed will not be allowed to start classes until the internet connection speed is advanced.
7. Preply
Preply is an online ESL marketplace where your teaching profile is noticeable in search results along with bringing new learners. Teaching experience is suggested and if you are a non-native speaker, TEFL/TESOL is needed. Your earnings depend on the hourly amount you set in the profile and how frequently you can provide lessons. Also, profiles without a real photo or video will not pass the selection process. Preply does not send rejection letters.
8. Cambly
Cambly is also another good platform for online English language tutoring. You can log in and book a shift and also you can set your own hours with no previous experience or certifications are obligatory. Proficiency in the English language is a must with the capability to teach and motivate students to improve their language skills.
Due to the worldwide pandemic situation, thousands of educational institutions are also now jumping to digital classrooms, rather than the in-person allocution halls. With TEFL course online certificate, you may be competent to pick and select which one is best for you to carry on with after being hired on.
Teaching English online certainly comes with its benefits, give it a try!