How to Make Your Teaching English UK Rock with Google Classroom?
Who doesn't wish for teaching English as a foreign language in an outstanding education system with peerless opportunities for career development?
Well, we've got some truly good news for you as well as anyone interested in teaching English abroad. Recently, different surveys disclosed that the UK is in the middle of a serious unavailability of trained teachers, so schools along with the other educational institutions are keen on hiring internationally well-trained educators.
However, most people around the world are working from home now, so as the teachers and professors. They are conducting online classes, webinars, etc. to teach their students in this crisis. Here, the platforms like Google classroom helps teachers as well as students to study online efficiently with its simple user-friendly interface.
Quite naturally, there are lots of questions that may come to your mind! Therefore, we've tried to form a decisive guide to help you to kick-start your career.
We have tried our best to cover the following minutiae and all you have to do is just read along:

Basics of teaching English as a foreign language in the UK
What are the required qualifications?
How to find a teaching English job in the UK?
Can a non-native speaker teach English as a foreign language in the UK?
How can you incorporate the Google classroom in your teaching sessions?
How to use Google classroom?
Why Google classroom is the need of an hour?
Visa process (if you wish to stay)
Teaching English as a Foreign Language in the UK
Usually, the UK is one of the overlooked destinations to teach English as a foreign language. However, at present, there is a huge need for trained and qualified English teachers with a rise in European immigrants. The UK is a great choice for ESL teachers as to when you ponder the rest of Europe, the demand for English teachers is relatively crucial. Nevertheless, a lot of people don't understand that there is a demand. There are career opportunities in different private language schools, private lessons as a kind of additional income, etc. Teaching English as a second language jobs in the UK offers a competitive salary together with a number of opportunities.
Well, the cost of foodstuff is quite high, depending on what part of England you are staying in. No doubt London is quite more expensive than smaller English towns, but many parts of London can be cheaper as well. The UK is a miscellaneous plus tolerant place where hundreds of languages are being spoken. London's Tate Modern and the National Gallery are two of the UK's most well-known art spaces and some of the world's best live music settings as well as festivals are situated in the UK.
The UK is home to a moderate climate and rain is quite common year-round.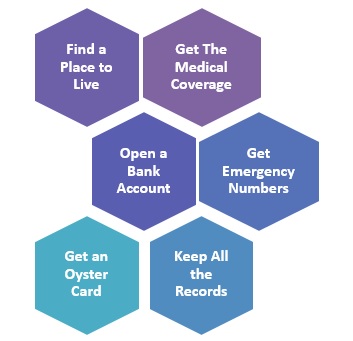 What are the Required Qualifications to Teach English in the UK?
To teach English in the UK as a second language or foreign language, qualifications are essential.

A full or part-time undergraduate degree program
A minimum of 120 hours online TEFL course
Previous teaching experience
Some private and independent schools have different requirements
In England, QTS (Qualified Teacher Status) is the authorization for teachers, and to achieve this, teachers must complete precise training and pass the standardized exams. There is no charge for applying for QTS. Sometimes, QTS may not be essential for teaching positions at different independent schools plus academies across the UK but this is rare.
Now, suppose you are an overseas teacher and how will you get QTS? Well, if you have done your teacher training in a country outside of Canada, the USA, Australia, New Zealand, or any country in the EEA, then you will need to undertake an accredited teacher training program in the UK at first to be granted QTS. You will be able to teach English in the UK for a maximum of four years but before that, you must attain QTS. This is called the '4-year rule' as well.
Necessary Aptitude Skills You'll Need to Have :

Excellent spoken and written English communication skills
Superb organisational skills
Effective listening and observing skills
Creative skills and ideas
Friendly nature
Ability to work under pressure
Aptitude to adjust to a new culture
Cultural warmth, acceptance, and patience
Confident
Presentable in nature
How to Find a Teaching English Job in the UK?
Well, London is the best place in the UK to look for teaching English jobs. It is possible to find the job online or over the phone but there are aids to job hunting when you are in the country. You can quickly search on the internet and apply for the latest teaching jobs in the UK at the click of a button! Your online TEFL certificate course service provider also delivers placement assistance.
Zones where you can teach English as a foreign language in the UK: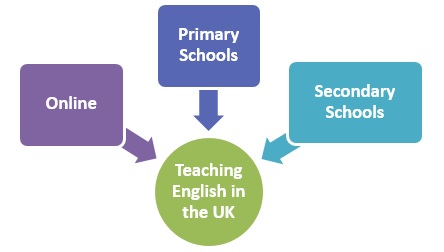 Also, if you're looking for a flexible approach to teach English in the UK, options available vary from government departments, multinational companies, volunteer organisations, development organisations, British council, community language centres, training centres and so on.
Can a Non-native Speaker Teach English as a Foreign Language in the UK?
Well, quite certain it is much harder for a non-native speaker to find work than a native speaker but with proper training, experience and qualification, he/she can grab the job. A passionate non-native English speaker will be able to find a job with a 120 hour TEFL course online with little experience. Maybe you can opt for the Master's program to secure your position more.
It is suggested to find a school or institution that has a lot of speakers of their first language. Well, most of the English speakers nowadays are non-native, and that there are numerous accents of English that are being spoken all over the world. With an understandable clear pronunciation as well as solid language awareness knowledge, the non-native speaker can secure their spot effectively. Non-native speakers will be necessary to ascertain their English expertise.
Some alternative careers with TEFL are :

Translator
Private tutor
Higher educational lecturer
Writing different course books
Marketing and publishing
Blowing up through 2018, the cutting-edge trend in teaching English overseas is online. There now are hundreds of online teaching English platforms to pick from. This trend also helps an ESL teacher's employment probabilities by brushing up his/her digital teaching abilities with online teaching tips!
Teach from Home with Google Classroom
We all are quite alert of the fact that nearly all the countries, both teachers and learners are dealing with different online educational platforms in diverse ways like Webinars, Online Classes, Online Workshops, etc. Therefore, to help teachers with something which would save time, save the institute's money, connect with students well along with parents in a better way, Google Classroom is a worthy thing for students.
Perhaps…this is how learners will continue to learn in the upcoming years. Google classroom is also easy to use and still, if you are new to it then you can just check some YouTube tutorials for it.

The education sector has been trending digitally in representations like flipped classrooms, online and blended learning. Moreover, different types of the extreme surroundings are making the instructive community move online only currently to connect you with your students. In fact, a digital classroom with tools like Google classroom offers more flexibility for learners to involve and learn at the pace that is accurate for them.
Unfortunately, there is no particular website that does the whole thing you want for digital teaching, we are just being honest!
Perhaps that's why Google classroom is trending now as it creates a flexible central "hub" for all of the teaching-learning assets that you gather from the internet.

Google classroom works very well with YouTube and Google Docs and any other items created in your Google Drive.
Teachers can post discussion questions and can create exclusive editable copies of documents for students, and so much more.
Google classroom is an unrestricted and free web service developed by Google for institutes that want to make learning easier by forming, allocating, and rating different assignments.
The principal aim of Google classroom is to streamline the process of files- sharing between teachers and students easily.
As it is an entirely cloud-based tool, there is no more "dropping" of assignments by learners.
In order to make it more secure and effective, Google classroom has added a parent notification feature to keep parents educated about what is going on in the classroom.
Google Classroom allows you to build some distinctive assignments for small groups of students with sole learning undertakings based on the modifications needed by IEPs or 504 plans.
Google Classroom is cost effective.
Teachers can flip the classroom by sharing a video to go live in any preferable time easily.
Classrooms can also be used from semester to semester.
The feedback is instant and operational.
Well, if you are someone who wants to teach English by staying in the UK, then make sure you check all the visa procedures as well as requirements.
Visa Process
To live and work in the UK, all global teachers must have a legal work visa and, in some cases, registration from their country of origin is needed. Also, teachers of certain countries like Romania, Croatia and Bulgaria, may need special permission to work in the United Kingdom, even as provisional workers. If you possess either the UK or EU passport, you can teach in the UK without any constraints. Or else, you can teach in the UK under the following visas: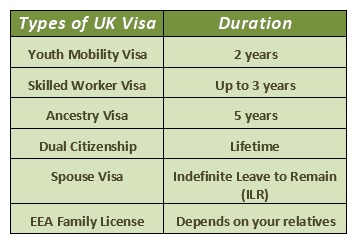 Some Additional Need to Know Facts
Well, the best time of securing an ESL position in the UK is during May and June. In case, if you'd have a preference to teach English in a private language school then you will see that the demand is legitimately persistent all year round. Make sure you are well qualified with an online TEFL certificate course along with some teaching experience. Remember, any kind of pre-entry experience, like a language assistant in a summer school, a home tutor, or some voluntary work abroad, everything is worthwhile. The salaries depend on the kind of school you are working at.
Conclusively, you can find opportunities in a range of sites, including different commercial language schools, institutes and ESL institutions of higher education throughout the UK and abroad. Make sure you check all the terms and conditions of jobs comprehensively before accepting a position. You'll be working, living, and devouring the adventure of a lifetime as an ESL expat abroad. Also, teaching English online is an outstanding alternative to teaching English abroad now. The flexibility and relaxation along with freedom gives the ESL teachers a unique chance to get in touch with international students by working from home.